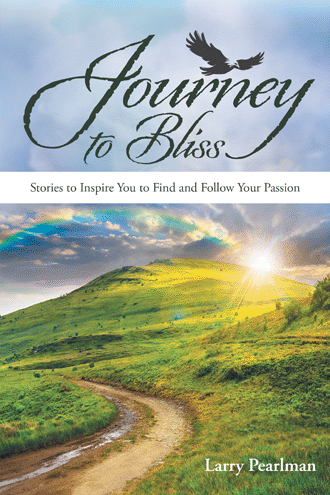 Buy the paperback version at the incredibly reasonable price of $14.99 or download the e-book for only 3.99 at Balboa Press. Also available at Amazon, Google Play, iTunes, Barnes and Noble, and Kobo. See my Amazon Author's Page here.
You know that there is something for you to do while you are here on earth. Something unique to you. Maybe you're not sure what it is. Or perhaps it is clear to you, but you haven't had the courage, money, time, or resources to follow through. In Journey to Bliss, you will meet others who have been in your shoes and gone on to discover their passion, sometimes in surprising ways, and then followed the path of their life's purpose, whether it took them down a smooth, easy trail or an incredibly rocky road, because they knew it was what they were born to do. Journey to Bliss may help you to find and follow your path.
What Others Are Saying
This book is a rare glimpse at the journey we all must take into the light. The insights illuminate the path of spiritual awakening, and in a simple, clear way show us that we're all making the journey together. If you're looking for a book that will show you the steps you must take to awaken to your Divine Purpose, this is it. —James Twyman, NY Times Bestselling Author of The Moses Code and Emissary of Light
This is a book filled with vision, passion, and heart. Larry Pearlman has succeeded in extracting and magnifying what's really important in life. After reading these inspiring ideas, you will want to get up and do something to make your journey the highest and brightest expression of your spirit. Well done, Larry! —Alan Cohen, author of A Deep Breath of Life
It's no wonder the thirteen people you'll meet in Journey to Bliss chose Larry Pearlman to scribe their regular-people-find-their-inner-extraordinary stories, because Larry's a bliss-finder as well. Okay, he might argue about who chose whom, but I believe people who live real lives usually find their tribe, too. Here Larry introduces us to more members of his, and this book is a collection of their fascinating true tales. Finding the way home is a leitmotif threaded through these diverse accounts. Like I did, I think you'll find the characters' perseverance and the authenticity of their stories inspiring, as you sense their indomitable spirits. ---John Clinton Gray, author of Gift of Seeds and If I Die Thursday
Larry Pearlman has written an easy to read, stimulating book. It shows us how a variety of good people found and fulfilled their own bliss by listening and responsibly answering a deep inner call to help others. —Jon Mundy, Ph.D., author of Living A Course in Miracles.